Hand Portable Atomizing Sprayer Machine Disinfection Anion Nano Steam Spray Gun Disinfection Spray Gun Sterilization Gun

Input voltage: 220~240V,50HZ .

Warranty : 1 Year warranty (Warrantee entails customer service support for faulty items. In the form of consultation replacement of faulty parts and or is not limited to replacing of the unit itself if in the case it is defective.).

Alcohol can not be used, other disinfection potions and various fragrances can be used .

Application: Indoor,Car,Room,Office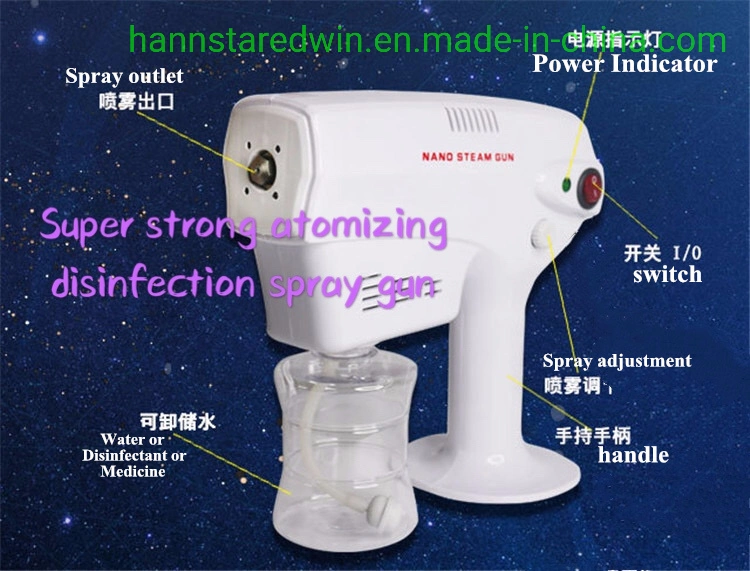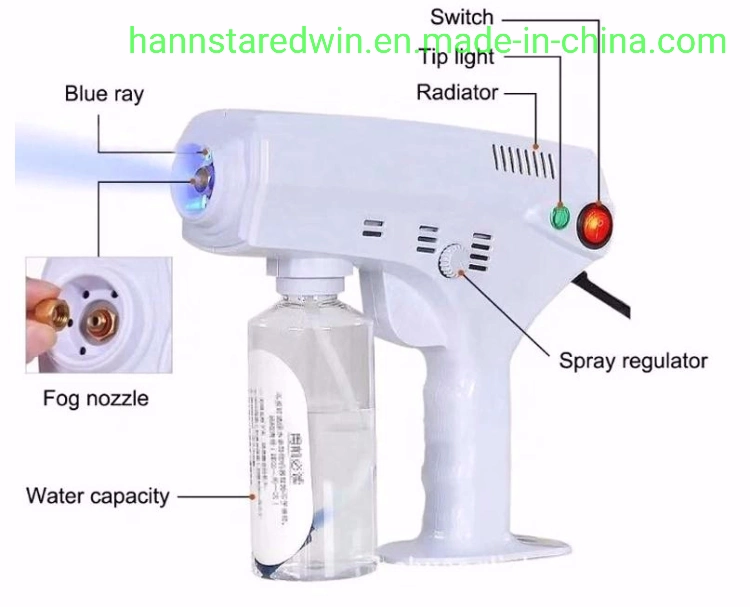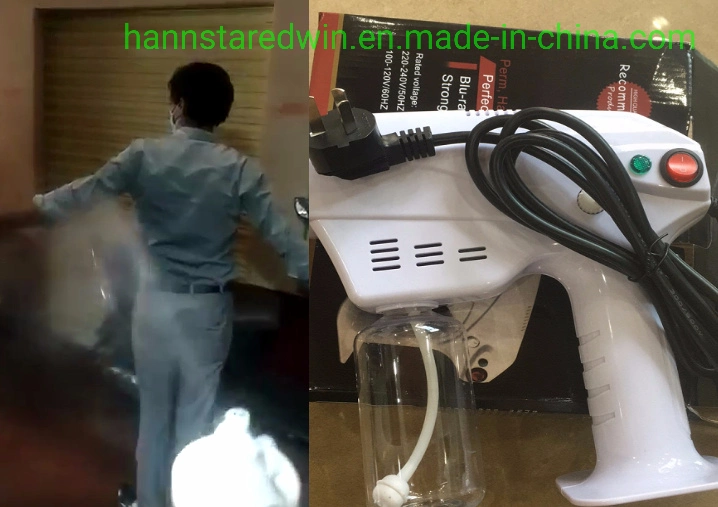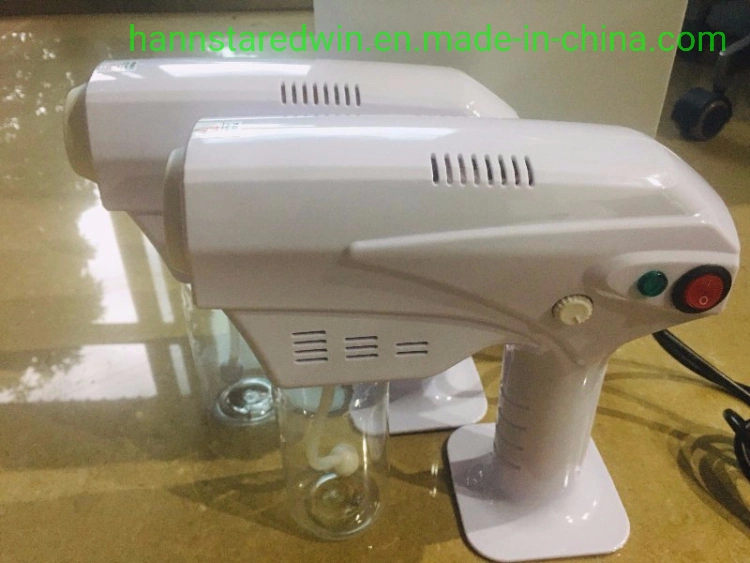 Application principle and Function Description:
This product is a portable design. It adopts ultrasonic atomization technology. The disinfectant is atomized into 0.26nm water molecules with a single straight diameter by a dynamic supercharged ultrasonic built-in device. It can smoothly penetrate through a gap of about 1nm and penetrate into the surface of the object directly. Electronic superfrequency concussion (the concussion frequency is 1.7MHz, which is beyond the hearing range of human beings and has no harm to human beings and animals). Through the high frequency resonance of the atomizing tablet, the liquid medicine is thrown out of the water surface to produce a naturally flowing water mist, and it is sprayed into the required disinfection space to achieve the effect of killing bacteria and pathogenic microorganisms in the air. Compared with the current disinfection methods such as UV and forbalin fumigation, the effect of sterilization and its effect on human body have been improved significantly.
Product advantages:
1. The product is portable design. It has the advantages of light weight, small volume, convenient movement and simple operation. It can spray disinfectant to various objects and dead area in a comfortable and economic way. The nano particles ejected from the nozzle are atomized instantly in the air and permeate the whole disinfection space, thus achieving the goal of thorough disinfection!
2. This product has super atomization function. After atomizing, the particles can be less than 0.26 nm, and the spray slows down. It will not produce any traces of water. Once it is blown lightly, the fog will disperse immediately. It is extremely light and extremely thin. The disinfection effect is full, efficient, durable, and sterilizing water is saved.
3.The product adopts a special three nozzle design. Special sprinkler and reasonable aperture design ensure spray distance up to 1.3m.
4.The double filter design ensures that the main engine will not be blocked because only a single filter is installed.
5.The handle has a unique power design with a built-in dry battery, which is safe and practical, ensuring more than 5 consecutive hours of working time. A gun in hand, the virus will be eliminated!
This is a national patent product, and counterfeiting must be investigated!
Thanks !
Descripción de los principios y funciones de la aplicación:
Este producto es portátil. Usar técnicas de atomización por ultrasonidos.Los desinfectantes se atomizan en moléculas acuosas de 0,26 nm de un diámetro único mediante un dispositivo de ultrasonidos de compresión dinámica.Puede penetrar fácilmente en una grieta de aproximadamente 1 nm y penetrar directamente en la superficie del objeto.Shocks de frecuencia ultraalta electrónica (con una frecuencia de 1,7 MHz que excede el nivel de audición de la persona y es inofensivo para las personas y los animales).La resonancia de alta frecuencia de las pastas atomizadas hace que el líquido se desprenda del agua y produzca una bruma de agua fina que fluye naturalmente hacia el espacio desinfectante necesario para eliminar las .
Ventajas del producto:
El producto está diseñado para uso portátil.Tiene la ventaja de ser liviano, pequeño, móvil, sencillo de manejar, etc.Puede fumigar de manera cómoda y económica el desinfectante contra objetos y zonas muertas.¡Las nanopartículas que salen de la tobera se niebla instantáneamente en el aire, penetra en todo el espacio desinfectante, con el objetivo de desinfectar completamente!
Este producto tiene una función de atomización.Después de la atomización, las partículas pueden ser inferiores a 0,26 nm y la pulverización se desacelera.No va a dejar rastro de agua.Una vez que sopla el viento, la niebla se disipa.Es muy ligero, muy fino.La desinfección es adecuada, eficiente y duradera y permite ahorrar agua para la desinfección.
El producto tiene un diseño especial de tres toberas.Las toberas especiales y los diseños razonables de apertura garantizan una distancia de hasta 1,3 M.
El diseño del filtro doble asegura que la máquina no se obstruya con un solo filtro.
El empuñadura tiene un diseño dinámico único, contiene baterías secas, es seguro y funcional y garantiza una continuidad de trabajo de más de cinco horas.¡Con un arma en la mano, el virus será destruido!
¡Es un producto nacional patentado. La falsificación debe ser investigada!